Program Description
Curriculum and Schedule
What People Say
Qualification and Requirements
Application Process
Tuition Payment
Contact us
Apply Now
The Integrative Medicine Traditional Chinese Medicine (TCM) Residency Program is a two-year hospital based clinical training for Traditional Chinese Medicine practitioners. The first of its kind in the United States, this unique residency training is offered by International Center for Integrative Medicine (ICIM) in affiliation with Sutter Bay Hospitals in Oakland, California. Candidates are currently licensed acupuncturists with at least one-year clinical experience; or Doctor of Acupuncture and Oriental Medicine (DAOM) graduates.
The focus of this program is to integrate the best of Eastern and Western medicine in the environment of acute inpatient care. The program fully prepares residency trainees to effectively use their Traditional Chinese Medicine expertise in hospitals with cutting-edge technology. They work side by side with multidisciplinary care teams as an integrative medicine consultant and participate in clinical studies including research topics on acupuncture and herbal supplements.
The program has witnessed many benefits to the healthcare system and the patients: this integrative care approach has been not only cost-effective but also increased patient satisfaction and retention. The graduates of the program report their practice was greatly enhanced and several were placed in highly competitive inpatient settings upon completion of the residency.
The curriculum is robust and filled with challenging and rewarding activities including: clinical observation and rotations in various specialties, mentorship by renowned experts in the field, supervised yet hands-on encounters with patients under the guidance of expert Integrative Medicine practitioners, didactic training such as attending Grand Rounds, Tumor Boards, Journal Club, and participation in various research projects and presentations.
In strategic partnership with the International Center for Integrative Medicine (ICIM) , HealooNow is offering an innovative and pioneering model of TCM post graduate education, the TCM Residency. Combining the best of Eastern and Western Medicine, this creative program prepares the TCM practitioner to work in the acute care setting as part of an interdisciplinary team.
Download Program Description PDF
Program Overview
The overall program is modeled after the standard residency program for US physicians. TCM residents will have ample opportunity to observe Western Medicine practices and participate in patient care as Integrative Medicine consultants. Through the same and exact kind of residency training received by western medicine physicians, the TCM residents will acquire the beginning Integrative Medicine skills and competencies in acute inpatient care in a hospital setting.
Curriculum with each disease outline:
The TCM residency program enjoys a high reputation for its robust and quality curriculum. Using expert lecturers, clinical observations, case discussions, grand rounds and research activities as tools, the program offers true and equal opportunity for TCM residents to learn and work in the hospital side by side with a multidisciplinary medical team.
Trainees will work and present on different diseases with an Integrative Medicine approach.
Western Medicine History & Physical:
1. Definition, essentials of diagnosis
2. Etiology, pathogenesis, physiology
3. Clinical findings, symptoms, and signs
4. Evaluation of diagnostic testing: labs and imaging
5. Differential diagnosis
6. Treatment plan: recommended pharmacologic agents and others
7. When to refer medical red flag to MD specialties/other resources
Chinese Medicine History & Physical:
1.Definition, essentials of diagnosis,
2.Etiology, pathogenesis
3.Clinical findings, symptoms, and signs (Review Ten questions)
4.Evaluation: Tongue and Pulse diagnosis
5.Differential diagnosis
6.Treatment plan: recommend nutrition, dietary herbal supplement, TCM herbal formula and Acupuncture point prescriptions, exercises and meditation
7.When to refer to MDs, other resources
Clinic Rotations:
The program offers trainees three months of observation and clinical experience in each of the following medical specialties, a total of six trimesters over a two-year period. The purpose of these rotations is to offer clinical experience and didactic content for the beginning practice of Integrative Medicine.
Rotation sites include Emergency Room, cancer infusion center, nephrology dialysis center, acute rehabilitation, Intensive Care unit (ICU), OB/GYN, GI and others.
Weekly Structure and Schedule:
Residents are required to attend on-site clinical training for 15 weeks in each trimester, and 90 weeks in total in the hospital. In addition, 7 hours per week of distance learning are required. The curriculum is designed for trainees to acquire the necessary skills and competency to practice Integrative Medicine in an acute care setting.
There are two different on-site training schedules for residents to choose from.

Weekly Track: One day per week, every Thursday, 8am-4pm PST.
Monthly Track: Four consecutive days per month, Tuesday to Friday, 8am-4pm PST. Third Tuesday-Friday each month
Try out first with the short-term clinical observation::
ICIM offers the three-month clinical observation, either once a week or 4 consecutive days a month, for these three areas: Oncology; Rehabilitation (includes Neurology and Post Op); and OB/GYN. Short-term clinical observation program requires a minimum of 4 students to start the rotation.
Candidates, who are not ready to commit to the two-year residency program, may choose the 3-month observation first. After finishing the clinical observation, if they decide to continue on with the two-year residency program right away, the time and tuition will be credited towards the residency program. However, if candidates discontinue the training and decide to rejoin the residency program later, they will have to complete another full two-year training without counting the time or tuition of the 3-month clinical observation.
Trimesters (15 weeks each) starting and ending dates of the first year: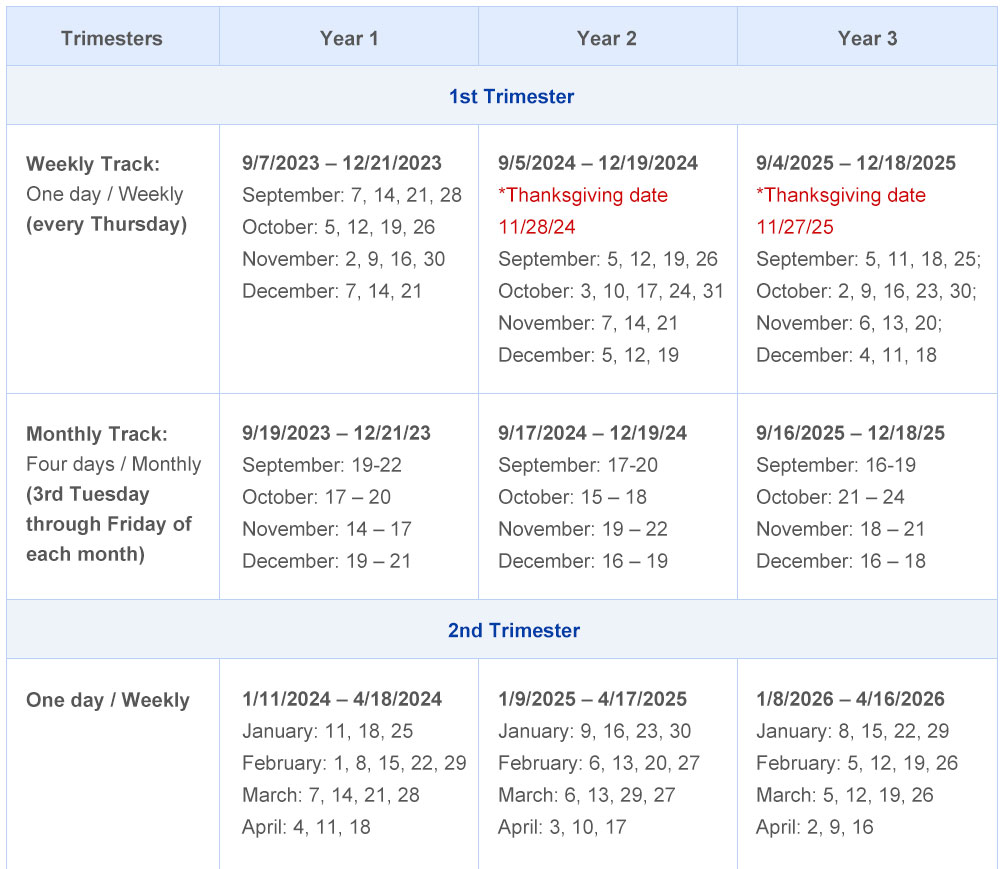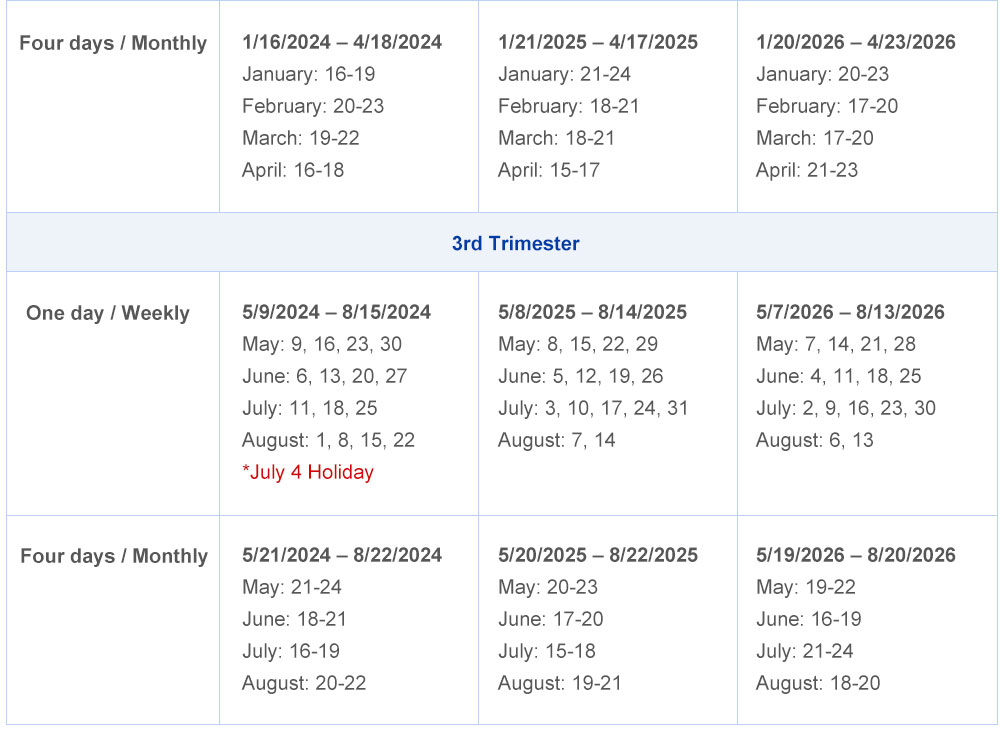 Sample Schedule:
Tuesday to Fridays:
08:00 - 09:00 - Morning Report
09:00 - 12:00 - Individual rotations as indicated by the schedule.
12:00 - 13:00 - Grand Rounds
13:00 - 16:00 - Rotations and mentorship activities
Learning Activities:
The program seamlessly combines face-to-face experience with distance learning and self-study, and main learning activities include the following:
· Morning Report: 8:05 - 8:55AM (12 per Term)
· Noon Conferences: Zoom meeting 12:00pm -1:00pm
· Wednesday: Breast Cancer Tumor Board
· Thursday: Grand Rounds
· Rotations: various hours, weekly
· Discussions / Participation: Attendance & Article Application, Summaries – weekly
Graduate Requirements:
To receive the Certificate of Graduation with a letter stating hours of training, you must complete the following requirements:
·  Grand rounds
·  Monthly One to One (1:1) Preceptor Reviews
·  Research Project
·  Current "Basic Life Support (BLS)"
·  Final Presentation
·  Final Exam (pre-/post-learning assessments, test questions)
What People Say about our Program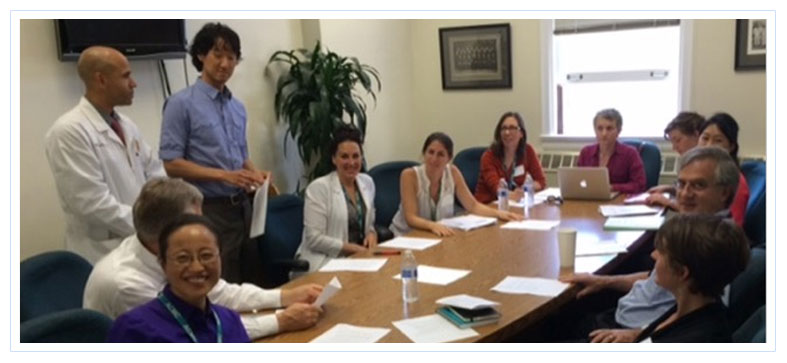 "The ICIM residency program for Integrative Chinese Medicine was outstanding. There is no other place that offers this type of program currently. Cycling through the different treatment teams gave me a profound understanding of the training of MDs in a hospital setting and a genuine respect for medical doctors. Rotations like cardiology, neurology, nephrology, and gastroenterology all enriched my experience and taught me valuable insights into modern medicine. My experience in ICIM's program provided the foundation for working in a hospital setting and informs my current work in a teaching hospital regularly."
—K Scott Phelps
(TCM resident 2018 - 2020), Lead Inpatient Acupuncturist, UCI Medical Center, Orange, CA, 92868
"The level of integration of acupuncture services in the Hospital residency program, let alone the use of acupuncture in the ICU for non-opioid pain treatments, is truly novel in the United States. It is encouraging to hear of how well it is being received by patients, as well as the attention it is drawing from other programs."
—Ben Bodea
Executive Officer of the California Acupuncture Board
"…this residency was one of the greatest experiences of my life. The training that I received from my mentors and from hospital rotations was invaluable. I use the knowledge that I gained all the time in my current practice. I'm much more comfortable with western labs, radiology reports, and I am incredibly more confident with western medical practitioners. Most importantly, I am much more capable of reading warning signals behind what seemed like ordinary pain. I understand the strength and weaknesses of both Chinese medicine and Western medicine more thoroughly."
—Dr. Tehea Robie, MS, L.Ac., DAOM TCM Residency program graduate
"I am very grateful to participate in building the bridge between East and West medicine by training and collaborating with medical students, residents, and tenured physicians."
—Highland Hospital Medical Resident
"It is a very rewarding experience to see the smiling faces of individuals being offered acupuncture who would not otherwise be able to receive TCM treatment".
—Hospital Attending Physician
Download What People Say PDF
Candidates are currently licensed acupuncturists with at least one-year clinical experience; or Doctor of Acupuncture and Oriental Medicine (DAOM) graduates.Work experience is waived for practitioners with a doctoral degree in TCM or Oriental Medicine. CA acupuncture license needs to be submitted with the application package in order to be considered. TCM practitioners from out-of-state are welcome to apply and can participate in all program activities except clinical treatment of hospital patients.
ICIM shall only accept CANDIDATES who have professional liability insurance. CANDIDATES shall be required to have and maintain professional liability insurance in the minimum amount of Two Million Dollars ($2,000,000.00) per occurrence and Three Million Dollars ($3,000,000.00) annual aggregate. The amount of professional liability insurance for CANDIDATES is established by HOSPITAL requirements.
All CANDIDATES are required to provide a certificate of insurance proof to ICIM before joining the Residency Program. ICIM will keep a copy of said proof of insurance in CANDIDATES's personnel file.
Residency trainees will be responsible for all expenses and fees associated with the training, including but not limited to meals and transportation, parking, course material/textbooks, lab coat, vaccination, ID badge, or any other expenses incurred due to requirement of the HOPSPITAL.
1. Complete application package online
Package checklist:
A. Application form
B. Current CV/Resume
C. Personal Letter of Interest to the Program
D. Two Peer Reference Letters
E. Copy of acupuncture license
F. Proof of liability insurance
2. Submit complete package on or before
April 30, 2023
3. Reserve interview time between
May 1 and May 31, 2023 (in person or by Zoom meeting)
4. Wait for notification letter sent by
June 1, 2023
Scholarship: Healoonow repistered members who are accepted into the two-year Residency are eligible to apply for scholarship up to$18900, which can be applied to the tuitions.
Tuition is $7,875 for licensed practitioners and doctoral graduates, and $4,999 for current students in doctoral program.
Tuition for the residency program is due within fifteen (15) days prior to the start of each trimester. The annual fee can be paid in three installments, with $7,875 due for each trimester, payable to TCMG at Bank of America via ACH or wire payment. Detailed bank information will be sent to candidates after acceptance into the program.
1st Payment due by Aug. 23, 2023
2nd Payment due by Dec 27, 2023

3rd Payment due by Apr. 24, 2024
4th Payment due by Aug. 21, 2024
5th Payment due by Dec. 24, 2024

6th Payment due by Apr. 23, 2025
7th Payment due by Aug. 20, 2025
8th Payment due by Dec. 24, 2025
9th Payment due by Apr. 22, 2025
Tuition for the 3-month clinical observation is due within fifteen (15) days prior to the start of the observation program (Sept 4, 2023)
Tuition is $7,875 for licensed practitioners and doctoral graduates, and $4,999 for current students in doctoral program.
"Sutter Bay Hospitals Integrative Medicine TCM Residency"
Please fill out the form online and save your
completed documents.
Online form
If you cannot fill in online, please click here to
download the form to fill in.
Download
Please send the complete application package to
residency@healoonow.com
NO LATER THAN April 30th 2023.
Scholarship: Healoonow registered members who are accepted into the two-year Residency are eligible to apply for scholarship up to $18900, which can be applied to the tuitions.